frogDisplay
3.5″ touch screen user interface for controlling e.g. lighting, shading, heating and scenarios. With 2 inputs for querying low voltage contacts without additional supply. The frogblue "Smartphone" with touchscreen control and WLAN gateway for the flush-mounted box (230 V~). With integrated proximity sensor, brightness sensor, microphone, loudspeaker, temperature sensor, time buffer.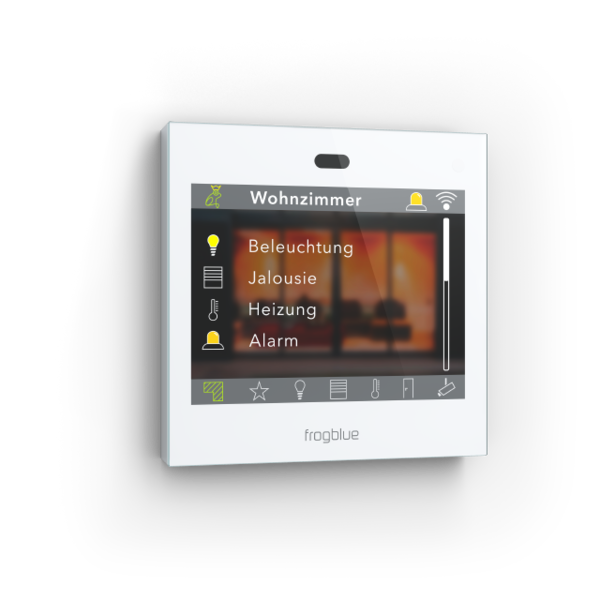 Description
The frogDisplay is a compact user interface with a flat, minimalist design in white glass. Measuring 81 x 81 mm, the frogDisplay is only as large as a light switch. All the functions and scenarios for intelligent living (including heating control) can be controlled via touch screen.
It communicates directly with the frogs or other components of our system via the Bluetooth® LE (Low Energy) standard, using the frogblue Bluetooth® mesh network. The frogDisplay provides a telephone function and Onvif camera integration (Open Network Video Interface Forum). The frogDisplay can therefore also be utilised as an alarm system in addition to the system control function.
Like a "smartphone on the wall", the frogDisplay enables visualisation, access control, intercom and video display. Via its WLAN connection, e.g. to the FritzBox™, it offers secure remote access to the frogblue HomeApp while on the move. It acts like a SIP telephone and uses the FritzBox as a telephony station, for example, in order to trigger a telephone call directly in the event of certain events or to send camera images to the display. Because: It monitors the building. Wirelessly. Every door, every window, every light switch or every motion detector can trigger an alarm. Filtered by time or only in certain rooms. For example, a telephone call with a voice message signals the alarm and even reaches places where the Internet no longer works because of a poor connection. Remote control and intercom are also possible by telephone. In addition, communication also works in reverse: by calling the frog display, it is possible, for example, to open the door, switch on the light or arm or disarm the alarm system.
Safety information
Electrical devices may only be installed and assembled by qualified, skilled electricians. Failure to observe the instructions can cause damage to the device and result in fire and other hazards. Danger caused by electric shock. Before starting work on the device or replacing light sources, always disconnect the power supply and switch off the circuit breakers. Country-specific regulations must be observed.
More information