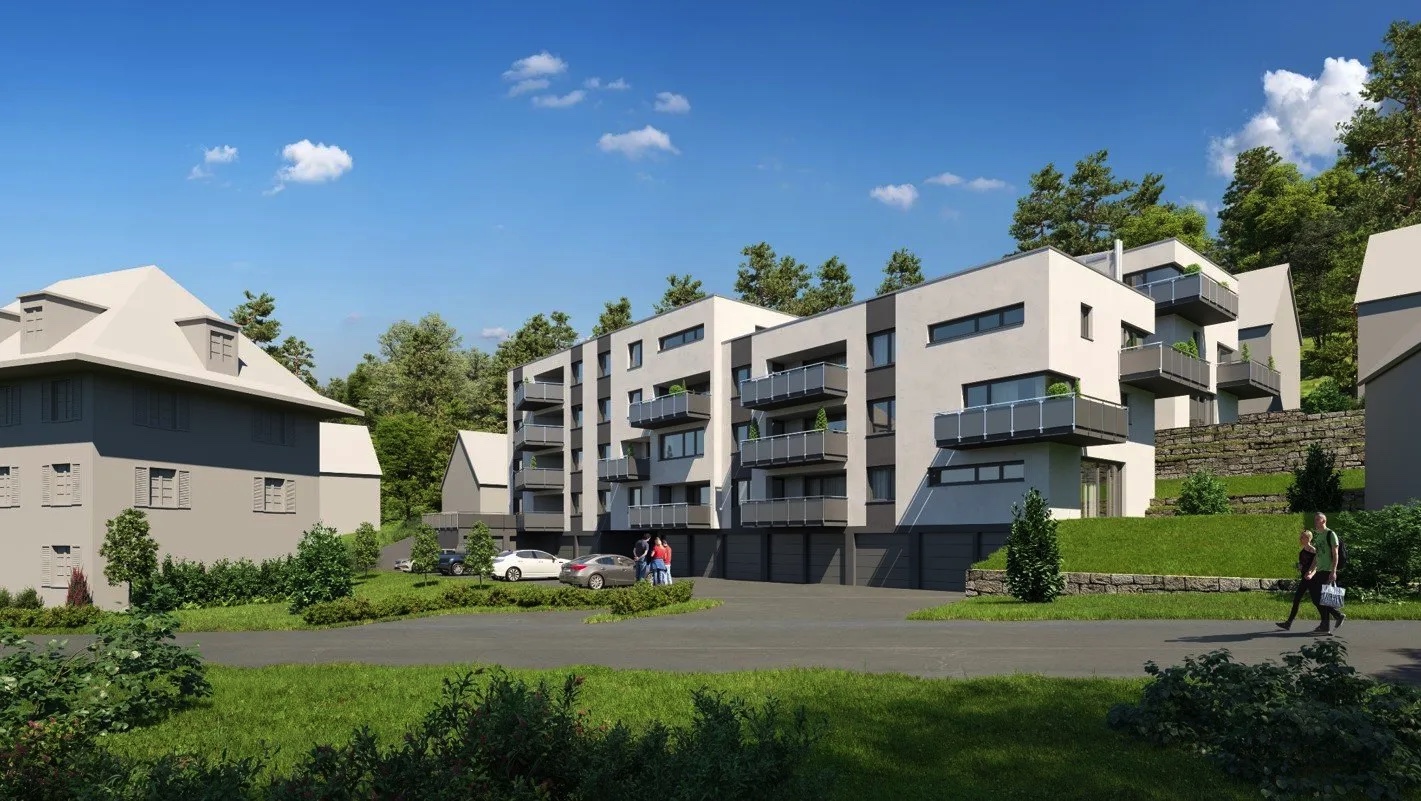 May 18, 2022
Living above the rooftops of Altensteig
with Ozean Horizont Projektentwicklungs GmbH & Co. KG
Ozean Horizont Projektentwicklungs GmbH & Co. KG from Herrenberg is expected to finish construction work on its new apartment building with 29 flats in Altensteig at the end of September 2022. The search for suitable tenants for the residential units will begin shortly.
Altensteig, 13.05.2022 – The housing shortage in Germany continues to progress. Especially in major German cities, there is a shortage of affordable flats and houses. The steady rise in rental prices is also causing citizens to increasingly settle in rural regions outside the big cities. Therefore, the federal government in Germany is taking more and more measures to make rural areas more attractive and to promote them. The developer, Ozean Horizont Projektentwicklungs GmbH & Co. KG, is also making its contribution and has been building an unusual apartment building in Altensteig in the northern Black Forest since July 2020.
After a construction period of 24 months, the work is scheduled for completion in September 2022. In a modern design, the residential quarter is integrated directly into the slope of the Schlossberg and is located in the immediate vicinity of Altensteig's town centre, which reflects the good infrastructure of the town of around 11,000 inhabitants.
The flats arranged around an atrium offer their residents light-flooded living and promise peace and relaxation. Due to the proximity to the city centre, all daily needs can be met within walking distance. The residential building with lift offers 29 barrier-free residential units with two, three or four rooms. They have between 40 and 100 square metres of living space and are equipped with a balcony, terrace or outdoor seating area, kitchen, bathroom and a bathroom. There are four barrier-free residential units on the first floor.
Whether for young families, couples, singles or senior citizens, the living concept addresses all needs. Each residential unit is equipped with high-quality parquet flooring and the "frogblue" SmartHome system, which can be controlled via Bluetooth®. Lighting, roller shutters and other elements can be controlled via push-button switch and app if required. A special highlight of the property is the communal roof terrace, which offers a spectacular view over the old town of Altensteig and is available for use by all residents. A total of 34 parking spaces are available for future residents, "We are pleased to be able to complete the project in Altensteig soon. With the new building, we hope to be able to offer the future residents a comfortable and modern living space in idyllic surroundings," says Vasco Kienle, General Manager of the Ozean Group.
In order to provide seniors as well as impaired people with the greatest possible comfort in the residential property and to enable them to continue to live independently, the property management company Ozean Immobilien Management GmbH & Co. KG, a sister company of Ozean Horizont Projektentwicklung, offers an all-round carefree package for people in need of assistance. Three different packages are offered, each of which is provided by the property management company, the SmartHome solution "Frogblue" and a well-known social service provider. Included are special services such as a care service, domestic help or technical support. Optionally, these options can be booked monthly for a fee with the property management.
Ozean Horizont Projektentwicklung will soon be looking for suitable tenants for the residential property. If you are interested in renting a residential unit, please contact Ozean Horizont Projektentwicklung in Herrenberg directly.
Published by Ozean Horizont Projektentwicklungs GmbH & Co. KG on openPR. Translated by frogblue.